You aren't a dull employee, so why should you, a not-dull-employee, accept a dull workspace? No, you deserve better. Adding some flair to your desk is a great way to show you're not like Norman from accounts (unless you are Norman from accounts in which case kudos on your Caravan Weekly calendar). So here's a top selection of gadgets and gizmos to make your desk the envy of your workplace.
Desktop Mini Arcade Machine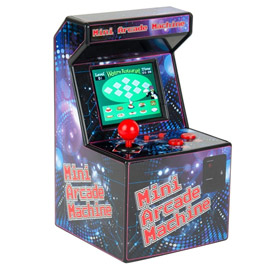 Ditch boring al-desko lunchtimes and treat yourself to this bite-sized dose of 80s nostalgia. Coming with a 2.5" colour screen, built-in speakers, eight-way joystick and 240 games, this mini arcade machine will revolutionise your breaks and bring an uplifting sense of play to the workplace.
Facebook | Twitter | Instagram | Pinterest | YouTube
---
USB Fridge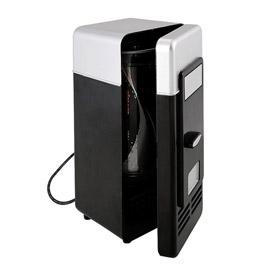 Because you're just that cool! Say goodbye to lukewarm soft drinks and enjoy a properly chilled iced coffee thanks to this American, retro style USB fridge powered by your PC. A true desk-top miracle. A miracle kitted out with an LED interior light, space for a 330ml can your of choice.
Facebook | Twitter | Instagram | Pinterest
---
This erasable memo pad lets you write down all your essential etchings on a touch screen and then saves them onto your memory stick. Finally, you can wave goodbye to the paper-art-installation of post-it notes you've been building since day dot.
Facebook | Twitter | Instagram | Pinterest | YouTube
---
Your new love of baclava is playing havoc with your keyboard? No worries, what you need is a Henry Desk Hoover. Just like it's big brother, it takes care of all your mess with minimal effort. But unlike it's big brother, will easily fit around your workspace without it's big red smirk making the place look untidy.
Website | Facebook | Twitter | Instagram
---
Penny-Farthing Tape Dispenser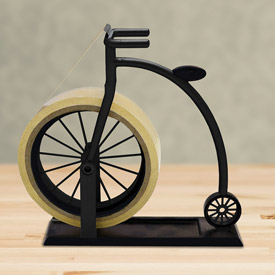 You'll be the number one choice for all tape related requirements thanks to this retro-chic tape dispenser shaped like an old-fashioned bicycle. It's not the most gadgety gadget ever, but it's a stylish departure from the same old Sellotape roll you've been peeling from since the real Penny-Farthings roamed the streets.
Facebook | Twitter | Instagram | Pinterest | YouTube
---
Infinity Cube – MenKind
Do you occasionally stare into space (I'm not bored, I'm in my zone)? Well now you can get lost in infinity in this funky little deskoration (desk + decoration) which somehow manages to fit, well, infinity into it's neat little shell. Ok, not the most useful gadget but still very cool.
Facebook | Twitter | Instagram | YouTube
---
Eric the Memory Elephant – Oliver Bonas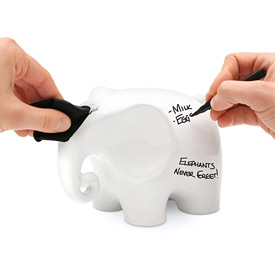 Swap your mountain of post-it notes for Eric, a 'memory elephant'. He's a smooth, white ceramic model that you can jot down all your essential tasks and notes on and much like the real thing, he never forgets so you won't either.
Facebook | Twitter | Instagram | Pinterest
---

---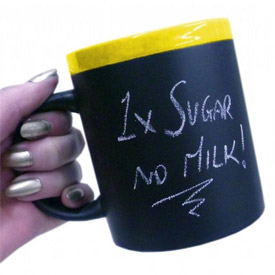 Tea rounds in the office can quickly turn into the stuff of nightmares, "I asked for one sugar, not two, tssssk". But these blackboard mugs make teatime dilemmas a thing of the past as you write your orders on them, leaving no excuses for your brewing colleague of choice.
Facebook | Twitter | Instagram | Pinterest | YouTube
---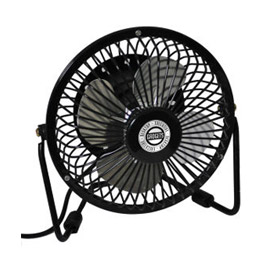 This trendy desktop USB fan plugs directly into your PC to help you keep your cool during those summer month meltdowns. While it isn't the biggest unit in the world, it's got a speed of 2300rpm and can be tilted to give you a much-needed fresh mid-July breeze.
Facebook | Twitter | Instagram
---
Fidgi Pen
Practically ensuring the eventual extinction of the stress ball, the Fidgi Pen is a fully-functioning piece of stationary that doubles up as a fidget toy for those rare moments where you lose focus and need a little something to help you back on track. Without anybody noticing.
Facebook | Twitter | Instagram | YouTube
---
Solar Charging Power Bank
This awesome power bank attaches to your office window and absorbs the sunlight, converting it into power for your smartphone. Then all you need to do is plug in and enjoy the environmentally-friendly leccy. Economic and cool as? Count us in.
Facebook | Twitter | Pinterest | YouTube
---
If there's one thing that most of us are guilty of in the workplace (apart from dodging tea rounds) it's bad posture. The Lumo Lift seeks to change that by acting as your personal posture coach, the magnetic wearable simply vibrating when you slouch at your desk. It also records your results for you to look back on with a companion app.
Facebook | Twitter | Instagram | Pinterest | YouTube
---
The Pip – Pip
We believe that we're at our happiest when we're stress-free and productive. But for all those times where work-related angst gets in the way, there's the Pip. This extraordinary sensor detects stress through the skin pores on your fingertips, it then visualises your level of anxiety through an app and even features quick exercises to help you back to a place of calm.
Facebook | Twitter | Instagram | Pinterest
---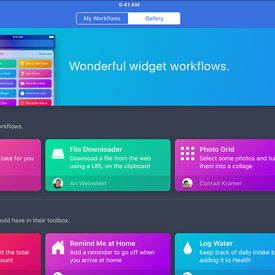 Workflow helps you streamline your working life by connecting the best features of your apps together. Whether that's logging meetings, keeping your essential contacts on speed dial or simply tracking your caffeine levels, it's like having your own virtual PA at the touch of a button.
---
The Saent is a smart, discreet AI device that sits on your desk and helps you concentrate during working hours. It can improve your productivity with focus sessions, acts as a 'do not disturb' sign for co-workers and automatically calculates smarter breaks so you can get the most from your days in the office.
Facebook | Twitter | Instagram
---
LVL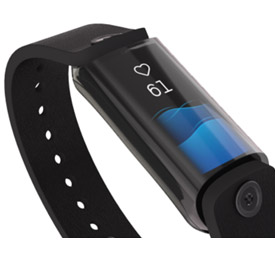 It's a well-known fact that a hydrated mind is a healthier, more productive mind. That's why we think the LVL hydration monitor is about to become the must-have gadget for tech-obsessed employees. This smart watch tracks your hydration levels in real time, letting you know when you need to drink, sleep and exercise to feel your best.
---

---
LED Clock Fan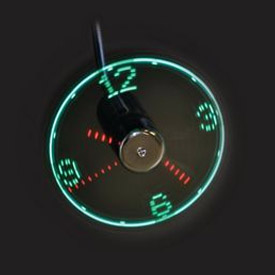 This futuristic fan plugs straight into your computer via USB and projects a sci-fi clock face onto its blades as it spins. Looking like something from a Star Wars film, it's probably the funkiest fan, well, ever and a must for the summer months.
Facebook | Twitter | Pinterest | YouTube
---
Phone Charging Pads – Grovemade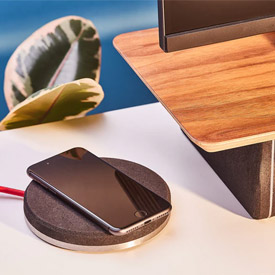 Grovemade's phone charging pads are designed for iPhones and sit comfortably on your desk so you can rest assured that your work phone is ready and waiting whenever you need it without the extra tangled cables. With stylish cork and wood-based designs, they look the part too.
Facebook | Twitter | Instagram | Pinterest
---
Levitating Stobe Pen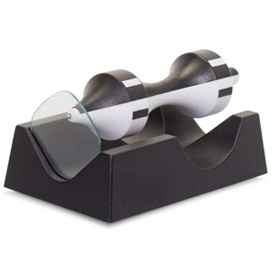 This levitating strobe pen uses a magnetic cradle to hover in mid-air, spinning in place. It's a fantastic desk accessory to create a feeling of ownership over your workspace and let's be honest, it's a pen… That floats… What's not to love?
Facebook | Twitter | Pinterest | YouTube
---
Stick Up Sticks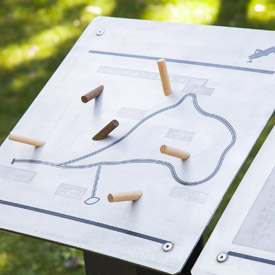 We've spoken in previous blogs about how owning your space can lead to an increase in productivity and these stunning stick-up sticks are a great way to do just that. These magnetised desk accessories can be a cool addition to a bulletin board, filing cabinet or any surface for that matter as you add a little style to your office management.
Facebook | Twitter | Instagram
---
Newton's Cradle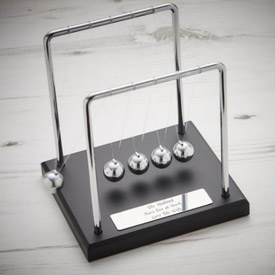 Newton's Cradle has been the desktraction (desk + distraction… ok, we'll stop now) of choice across the years and there's a good reason why. The tip-tap of the pendulum balls touching is both mesmerising and surprisingly relaxing, helping you achieve focus when you need it most. Giftpup's can also be engraved with a personal message.
---