We're off to ol' London Town!
London Town. The daddy of away day destinations. This is the big leagues, for teams looking to really go for the gold and get stuck into the some of the best team building activities London has to offer. The capital has a huge party and nightlife scene and packed with restaurants, shops plus an incredibly diverse list of activities on offer.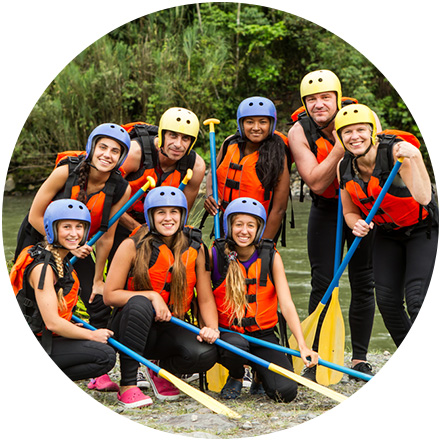 Top 6 Team Building Activities in London
Italian Job


Blow the bloody doors off your next company away day.

Medieval Banquets


Eat like Kings and Queens in London's days of yonder.

Choc-Tails


You read that right. It's the perfect marriage of taste sensations.

Big Red Bus


Take the Londoner's route around the capital and solve the puzzles.

Breaking Bad


Fantastic cocktail making class for those who are "the danger".

The Apprentices


Perfectly pitch your idea to Lord Sweetener or "you're fired!".
Top 3 London Lunch Spots
Cereal Killer Café
Nothing gets quirkier than sitting in a café-come-80s teenager's room and tucking into an amazing selection of cereal.
192a Brick Ln, London E1 6SA
BAO Soho
Steamed milk buns and other incredible Taiwanese eats and drinks in this intimate, wood furnished space.
53 Lexington St, Soho, London W1F 9AS
Bubblewrap Waffle
You can't get this memorable street snack anywhere else! A generous scoop of ice cream encased in giant bubble waffle.
24 Wardour St, London W1D 6QJ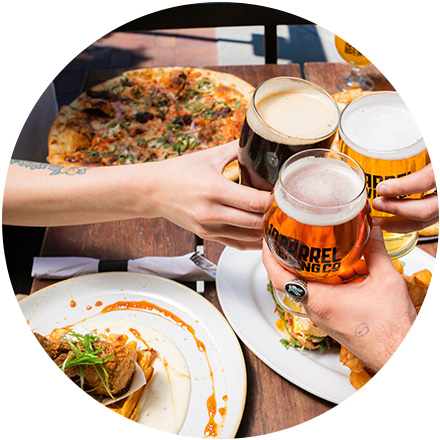 Did You Know...?
The Beatles played their last ever gig on the roof of Apple Corps at 3 Saville Row. It's now an Abercrombie & Fitch store, which we think is a little sad to think about.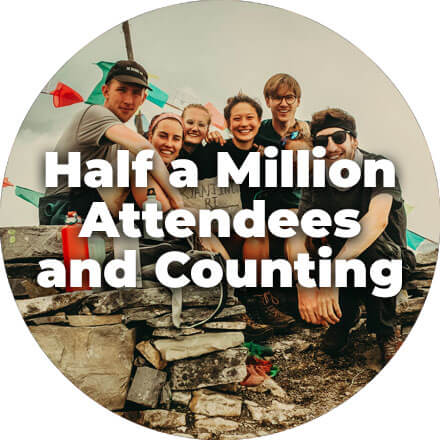 The Best London Brands
Innocent Drinks - Whether you're taking lunch at a picnic bench or back at your office desk, Innocent smoothies have made it into everyone's lunch since the company started in 1999. Based in Ladbroke Grove and with the coolest office culture ever, these little drinks are now sold across the world, making everyone's lunches happier.
Lady Dinah's Cat Emporium - Here at Company Away Days, we do like to recommend the coolest and quirkiest places to eat, but there's nothing different than Lady Dinah's Cat Emporium. Inspired by Japan's many cat cafes, this Shoreditch based eatery is all about relaxing with some feline friends and leaving your worries at the door.
Lazy Oaf - London based fashion anyone? Found in 2001, Lazy Oaf drives irreverence in everything it does, creating pieces that play on a weird and warped sense of humour. Their clothing is inspired by youth nostalgia, 90s fashion, and refusing to conform to the norm. Have a quick shop in Lazy Oaf and you'll soon look like a local in London!
Top 3 After Work Drink Bars
Oriole Bar
The Oriole's sumptuous space is an oasis where you can enjoy a glorious sense of disconnection from the outside world after team building activities in London.
E Poultry Ave, London EC1A 9LH
Sky Garden
This is a unique public that spans three storeys and offers 360° of uninterrupted views across the City of London. There's gardens, observation decks and an open air terrace.
1 Sky Garden Walk, London EC3M 8AF
Whistling Shop
Take it back two centuries with this Victorian inspired speakeasy, with classic cocktails, experimental drinks, gin, whisky and vintage liquors. Chin chin!
63 Worship St, London EC2A 2DU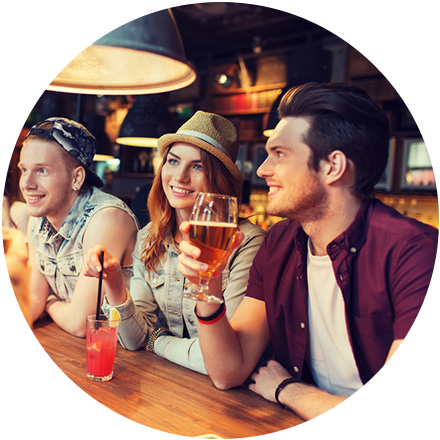 London Events Calendar
APRIL / London Marathon - Get your team signed up to the inspiring marathon with a course from Blackheath in South East London to St James' Park in Westminster.
AUGUST / Notting Hill - Carnival Starting in 1966, this is one of the world's largest street festivals with a parade, food stalls, and live music.
OCTOBER / London Film Festival - Celebrating everything about British cinema over 12 days. Film screenings spread out across London as well as the London Film Festival Awards.
Work Christmas Party Ideas London
After a year of hard work and great achievement it's time to reward everyone for a job well done. But where do you find the time to organise it all? You don't. Let us do all the hard work for you and deliver the best office party ever, all while saving you money. Put us to the test today and get work Christmas party ideas for London and a hassle-free quote.
Game Show - An evening of big laughs, team tests and cheesy hosts. Why not add personalised company rounds?
Cocktail Mixing - 'Shake what your momma gave ya' in a competitive team mix off to make (and drink) the best cocktails.
Pub Treasure Hunt - A hi-tech race to solve clues with creative thinking, funny challenges and the occasional public house.
See more Christmas party ideas...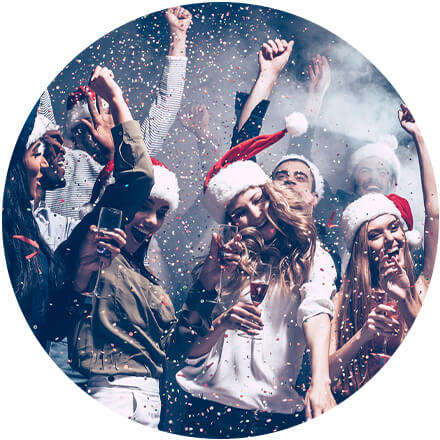 Grab your ones and twos, we're off to ol' London Town!
You won't Adam and Eve the team building London activities we've got on offer! Here at Company Away Days, we've got a stunning selection of experiences in London to get your team out of the office and into the driver's seat. Have a chat with a friendly member of our staff for a money-saving deal on your next team building activities in London.
We'll take all the stress out of
organising your away day activities.