What's Included
Event host
Construction challenges
Team building fun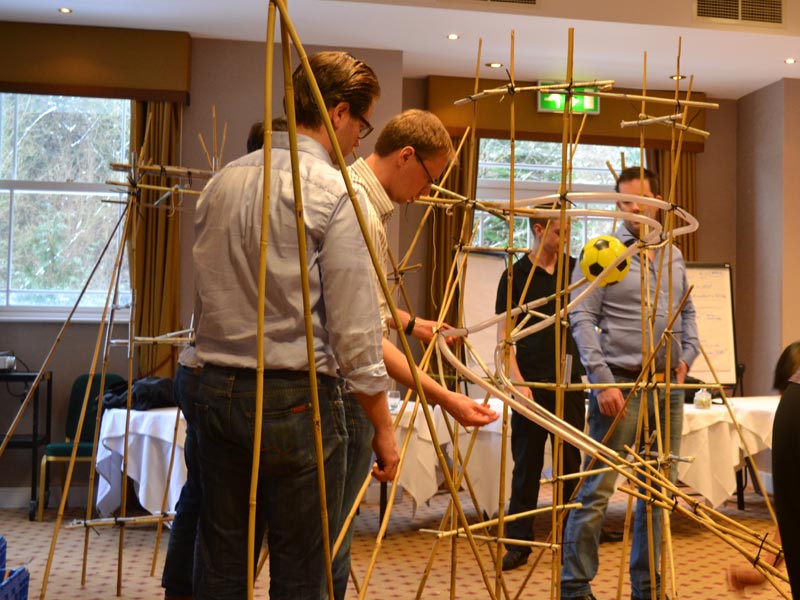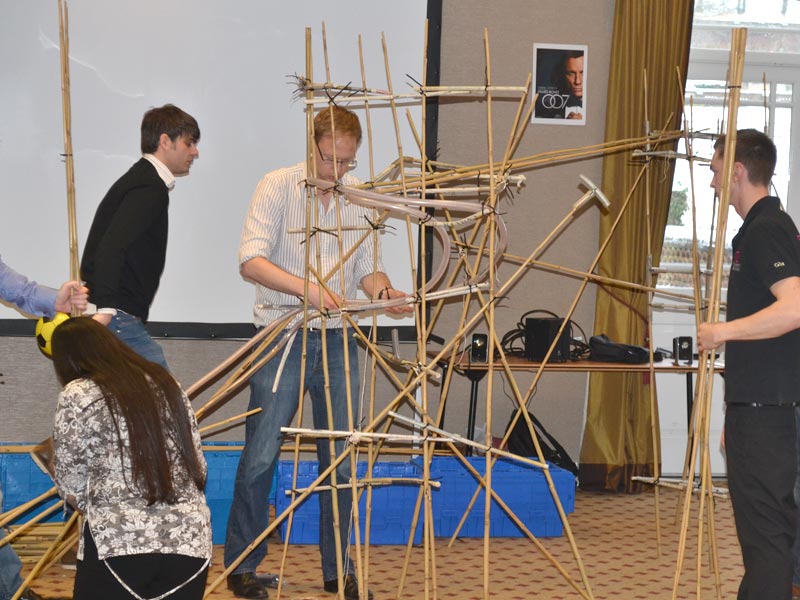 What You'll Be Doing...
Session rundown from the event host
Teams begin creating separate sections of the amazing structure
Design, craft and test your structure while ensuring it flows into the next team's section
Bonus challenge; making a functioning loop the loop
Once complete its hearts in mouths time as a ball hits the rail...
...will it make it through each team's section?
...will it pass through the joint intersections?
...and complete a loop the loop?
Teamwork, problem solving and communication are key for a successful mission!
More About Rollercoaster Design...
Thinking caps and design heads on, this is a fantastic test of brain-power, communication and problem solving. Your colleagues will all play a vital role in designing, crafting and testing a full and complete miniature rollercoaster as you attempt to get a successful ball run from one end to the other during our epic rollercoaster team building challenge.
Using bamboo canes, cable ties, string and rods, you will split up into teams to work on each part of the rollercoaster with the aim of bringing each section together for an incredible final piece to really be proud of. Teamwork and communication between groups is essential to make sure you don't end up with sections that don't even fit together! You'll be crafting structures as tall as each other, testing them continually to make sure the can stand up without your help and piecing them together for the grand finale.
You'll need enthusiastic section leaders to motivate everyone towards the final goal and convince them it's not doomed from the outset. However, once things start taking shape your colleagues will be getting ahead of themselves trying to craft corkscrew turns and loop the loops to really impress!
The grand finale is what it's all about, getting everyone together and putting the sections together to see if any of it works! It's a true sink or swim moment for the whole group as with hearts in mouths and huge trepidation you drop the ball at the start of the run and see if it makes through each team's phase of the build, through the connections between the teams and successfully around the track. Queue huge celebrations and pats on the back for accomplishing the mission!
What They Said...

Looking forward to next year's trip
"...From start to finish I had every confidence in the way my enquiry was handled. Very well organised throughout.
Looking forward to next year's trip..." - Clive Gardner | April 2017

Unparalleled value for money!
"...What we got was stellar accommodation, great customer service and total transparency combined
with unparalleled value for money!..." - Mark Thackwell | June 2017
Where Available...
Send your enquiry today and let us know where or what region you would like to do this activity.
We'll recommend our best options to suit your company event.
More Categories You Might Like
We'll take all the stress out of
organising your away day activities.
Get a Quote
Or speak to our team on 01225 474200.