What's Included
Authentic dining
Stunning locations
Fine ales
Live entertainment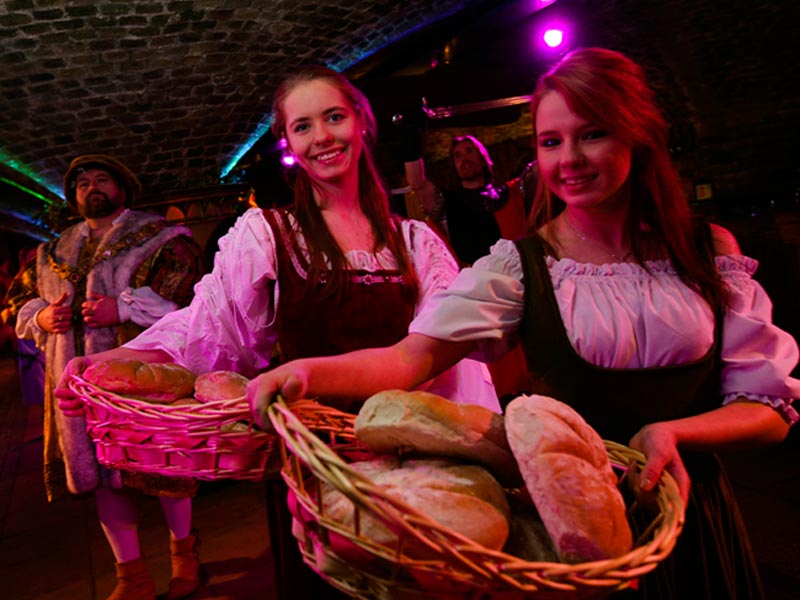 What You'll Be Doing...
Arrive at the lavishly decorated banquet room.
Take your seats at the enormous table and await your themed servers
Enjoy an incredible feast of traditional food and quality ale
Eat, drink and be merry as you enjoy the live entertainment and flowing drinks
More About Medieval Banquet...
Raise your goblets to a sumptuous feast, excellent live performers and a fun-filled, relaxed evening as you step back in time when internet was simply a Yorkshire fishing term. Get the whole office away from their desks and computers, if only for a night, and seat them where table manners take a different turn as cutlery is as authentic as the menu. Everyone from interns to chief execs will be dining like royalty!
Break the interdepartmental ice between different parts and sections of the company at this team building medieval banquet and swap the boardroom table for a fantastic feasting long table. The service is provided by medieval wenches while the lords and ladies entertain their guests with jokes, songs and all kinds of hilarity that yes, you will most certainly be expected to join in with (for fear of ending up in the stocks.... Or worse!).
Our medieval banquets differ slightly depending on location but you might find jousting knights, feuding lords, hilarious jesters and bawdy drinking songs mixed hosted in amazing locations which all add to the Dark Age atmosphere. More than a change of scenery or a simple meal out with the company, our team building medieval banquet is both a decadent (at times raucus) and filling feast, a stunning themed night out and an evening show in one.
You don't have to be office athletes to have a great night out with the company; this team building medieval banquet is the ideal experience for a company with a wide range of ages. Eat, drink and be merry and raise a glass to the accounts department for picking up the tab.
What They Said...

Looking forward to next year's trip
"...From start to finish I had every confidence in the way my enquiry was handled. Very well organised throughout.
Looking forward to next year's trip..." - Clive Gardner | April 2017

Unparalleled value for money!
"...What we got was stellar accommodation, great customer service and total transparency combined
with unparalleled value for money!..." - Mark Thackwell | June 2017
Where Available...
Send your enquiry today and let us know where or what region you would like to do this activity.
We'll recommend our best options to suit your company event.
More Categories You Might Like
We'll take all the stress out of
organising your away day activities.
Get a Quote
Or speak to our team on 01225 474200.