What's Included
Adrenalin pumping action
Reach speeds of 50mph
3G forces
Experienced pilot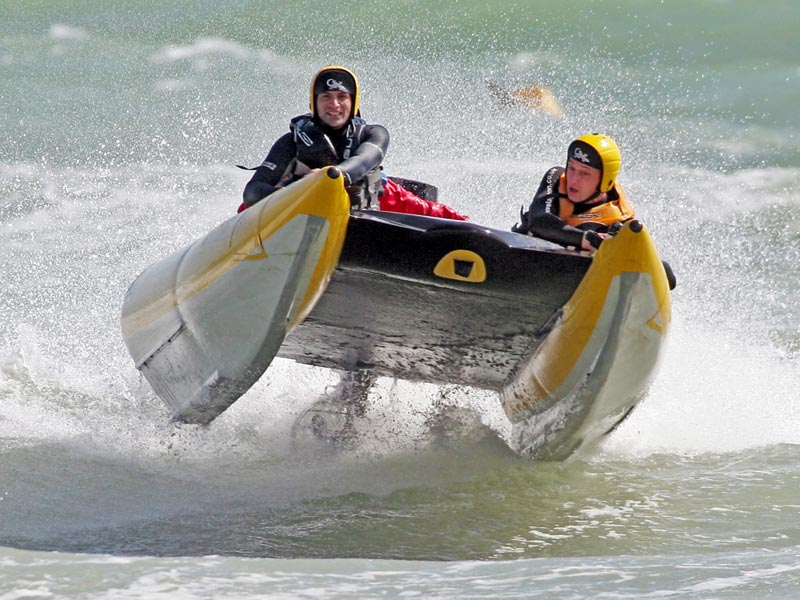 What You'll Be Doing...
You'll be kitted out with wet suits and safety equipment
After a quick safety briefing you'll board your zap cat and get ready to hold on tight
Then you'll be taken onto the water by our experienced pilots
With engine sizes of up to 800cc, you know it's going to be a bumpy ride!
More About Zap Kats...
If you're looking for an all-action, high speed water sport that's going to pull your colleagues out of their comfort zones on their away day, then our team building zap cats are perfect for you. With an experienced pilot at the helm, you'll take it in turns to step aboard crafts with engine sizes of up to 800c for an unforgettable ride across the water.
You're sure to engender a healthy amount of team spirit during this wet and wild thrill ride, as colleagues from different departments, who've never worked with each other before cheer each other on as they hold on tight to the side of their crafts as they conquer this adrenaline pumping high-speed cruise.
With a stronger power-to-weight ratio than most Ferraris, the zap cats themselves are powerful enough to make even the most macho of office personalities think twice. Your driver will take you on high impact jumps; breath taking leaps across choppy waves and sharp turns with up to 3G's of thrilling force.
Zap cats are a fantastic leveller, as managers are sure to scream just as loud as junior members of staff as they're thrown around the water with zero discrimination. Another massive benefit of zap cats team building is that they won't just provide a topic of conversation for the rest of the day, but for the longest time after you've returned to work. This means you could see some surprisingly productive interdepartmental links blossom in the office once you're back in the thick of the working week.
These crafts are incredibly fast and incredibly fun, and they're a great way to kick off an excellent, fruitful day spent outside of the office environment.
What They Said...

Looking forward to next year's trip
"...From start to finish I had every confidence in the way my enquiry was handled. Very well organised throughout.
Looking forward to next year's trip..." - Clive Gardner | April 2017

Unparalleled value for money!
"...What we got was stellar accommodation, great customer service and total transparency combined
with unparalleled value for money!..." - Mark Thackwell | June 2017
Where Available...
Send your enquiry today and let us know where or what region you would like to do this activity.
We'll recommend our best options to suit your company event.
More Categories You Might Like
We'll take all the stress out of
organising your away day activities.
Get a Quote
Or speak to our team on 01225 474200.