What's Included
Make the perfect sausage
Learn new skills
Hilarious mishaps
Expert instructor
Take your sausages away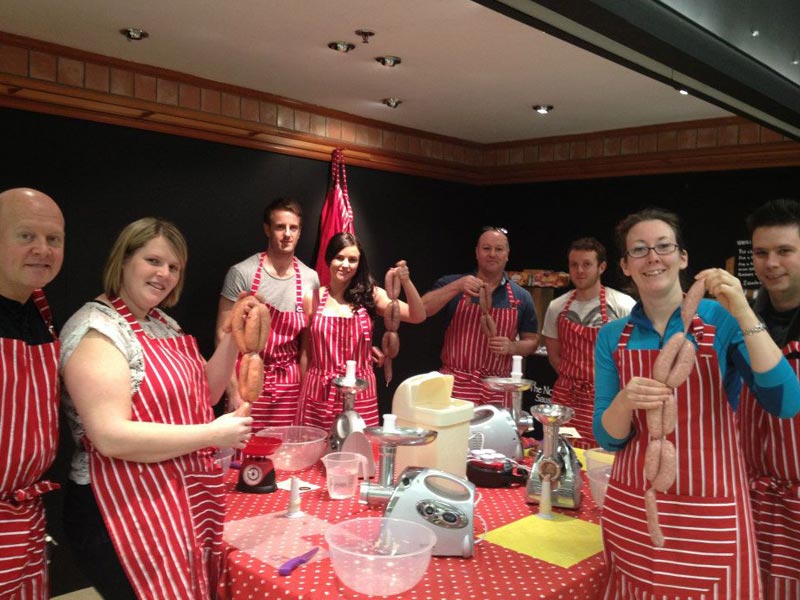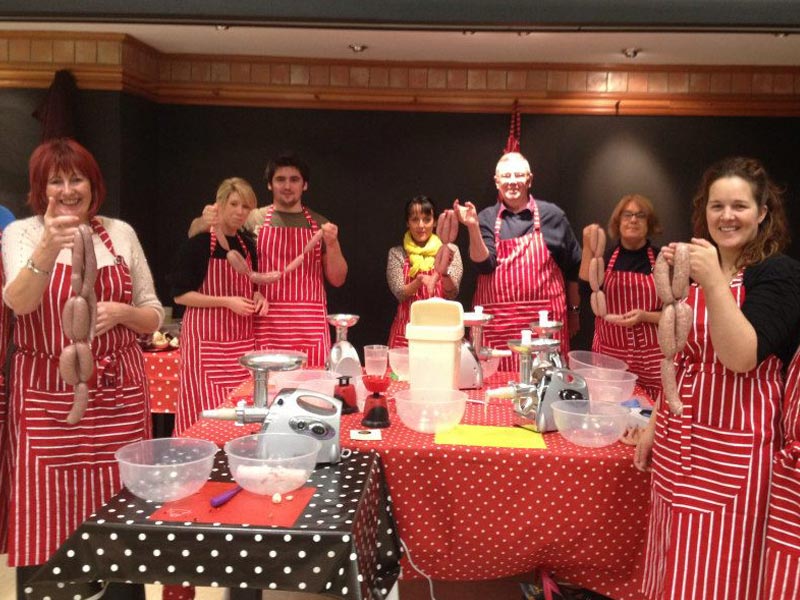 What You'll Be Doing...
Meat your sausage making expert
(see what we did there?)
Learn how to make the perfect banger
Get hands on with meat, flavour, rusk and casing
Feed the skins onto the meat
Things WILL get messy!
Set sanctions for the first sausage based innuendo
Sample some of your great work
And take the rest back to the office
More About sausage making...
There is something intrinsically British about a really good banger. They're star guests of the Sunday fry up, perfectly wrapped pastries at parties, and what would 'Toad in the Hole' be without the toad? But just how are they made and what would you put into a first rate sausage?
In our Sausage Making team building experience, you'll unleash some meaty mayhem and quite literally get to grips with the art of sausage making. On the day, you'll meet an expert instructor who'll give you a little history lesson the art of sausage making, plus give you a demonstration on how to make the best banger.
Then, you'll get into teams and have a go yourself at making some delicious sausages with hilarious results! If your different teams are all too familiar with one another and your business is rife with friendly interdepartmental rivalries, then this is the perfect opportunity to continue them. Who can produce the longest string of sausages in the shortest amount of time? There's sure to be some truly madcap action as accounting and marketing rapidly pipe sausage mix into casings, while human resources try to get everybody to just calm down.
Our Sausage Making team building challenge is a hilariously unique take on the company away day activity. This isn't your typical workplace event, but we know that your colleagues will appreciate a new and different kind of experience that celebrates the great British banger. Long may it reign!
What They Said...

Looking forward to next year's trip
"...From start to finish I had every confidence in the way my enquiry was handled. Very well organised throughout.
Looking forward to next year's trip..." - Clive Gardner | April 2017

Unparalleled value for money!
"...What we got was stellar accommodation, great customer service and total transparency combined
with unparalleled value for money!..." - Mark Thackwell | June 2017
Send Your Enquiry Today!
Our team will be happy to help!
More Categories You Might Like