What's Included
Make the perfect sausage
Learn useful new skills
Expert instruction
Potentially hilarious mishaps
Take your finished sausages away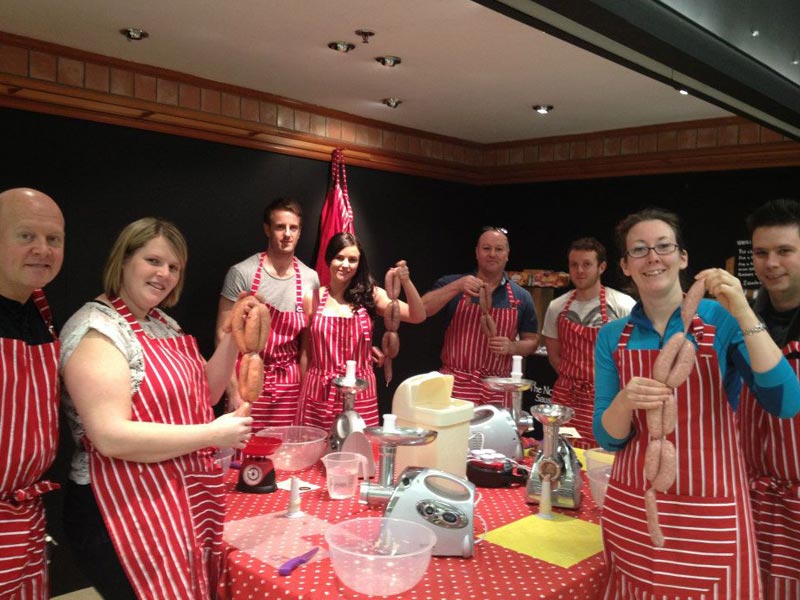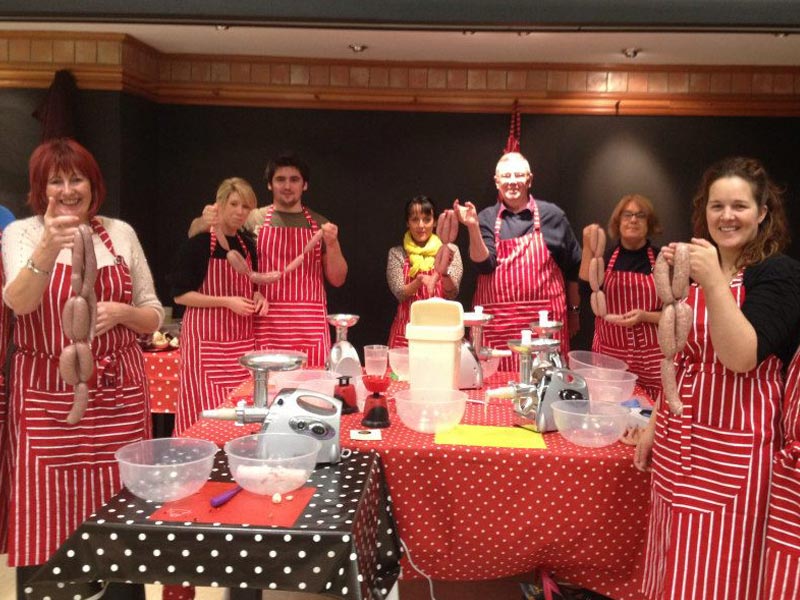 What You'll Be Doing...
Your sausage making experts will give you a rundown of the day ahead
Learn all about what makes the perfect sausage
Get hands on with meat, flavour, rusk and casing and create your own bangers
Having completed the perfect blend it's time to feed the skins onto the meat...
...this is where things get tricky and potentially very messy
Having 'skinned' and shaped your bangers you can sample some of your great work and take the rest away with you
More About Sausage Making...
There is something intrinsically British about a really good banger. They are star guests of the Sunday fry up, perfect pastry wrapped guests at parties and what would 'Toad in the Hole' be without a banger? But just how are they made and what would you put into a first rate sausage?
Our team building sausage making experience is an unusual but massively entertaining way of getting the team out of the office and into the kitchen for some truly unique culinary action that often ends in hilarity. Food is often a shared love making this a perfect way to get your team working and communicating in a new environment with thoroughly tasty results.
However, if your different teams are all too familiar with one another and your business is rife with friendly interdepartmental rivalries, then this is the perfect opportunity to continue them. Who can produce the longest string of sausages in the shortest amount of time? There's sure to be some truly madcap action as accounting and marketing rapidly pipe sausage mix into casings, while human resources try to get everybody to just calm down.
Sausage making team building might seem strange, but that's exactly why it works so well as an away day activity. It's an oddball event that will catch your colleague's completely off guard and engage them in a workshop where they won't just be mixing with pork and rusk, but with trust building communication and quality teamwork as well.
So move towards the frying pans and away from the desks for a mouth-watering company away day and celebration of the great British banger. Long may it reign!
What They Said...

Looking forward to next year's trip
"...From start to finish I had every confidence in the way my enquiry was handled. Very well organised throughout.
Looking forward to next year's trip..." - Clive Gardner | April 2017

Unparalleled value for money!
"...What we got was stellar accommodation, great customer service and total transparency combined
with unparalleled value for money!..." - Mark Thackwell | June 2017
Where Available...
Send your enquiry today and let us know where or what region you would like to do this activity.
We'll recommend our best options to suit your company event.
More Categories You Might Like
We'll take all the stress out of
organising your away day activities.
Get a Quote
Or speak to our team on 01225 474200.