What's Included
39cc mini bikes
Hit up to 30mph
Hilarious racing
Practice laps, heats and a final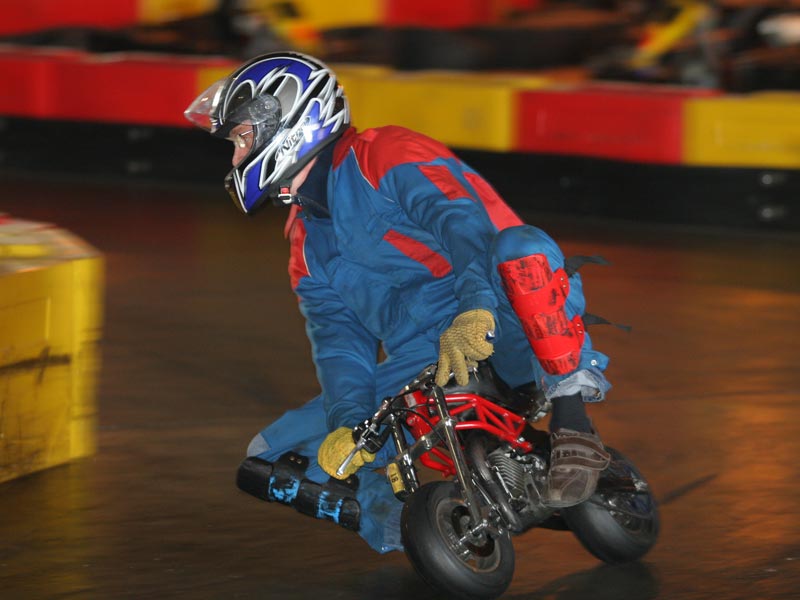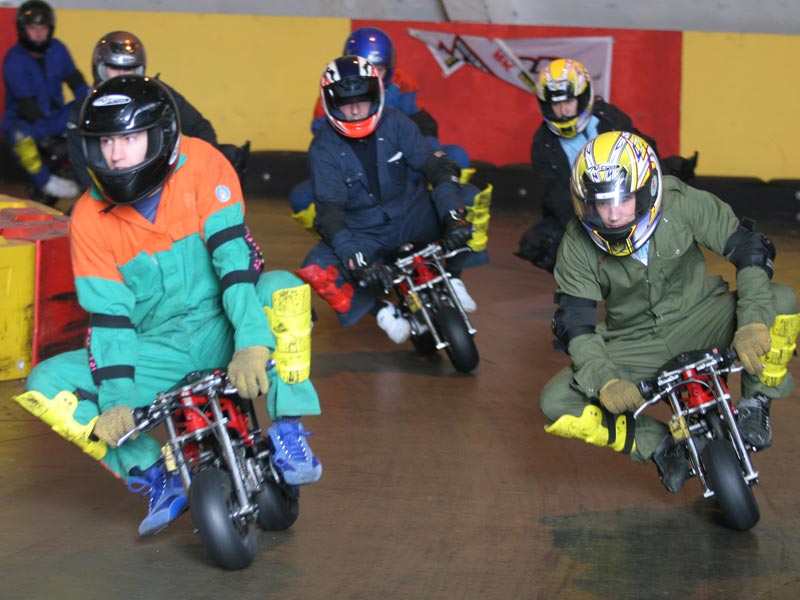 What You'll Be Doing...
Arrive and meet the professional mini moto instructors
Team safety before you change into racing leathers
Practice session to learn the track and get a feel for the handling
Game on! You'll race in heats for places in the final
Winner takes the precious bragging rights back to work
More About Mini Moto Racing...
Take the team out of the boardroom for a high octane, adrenaline pumping session of mini moto racing. The company faithful will be flying around the track, mere inches off the ground, hearts pounding and grins growing as they face off in friendly competition hoping to claim their place as the Valentino Rossi of the office in hilarious style.
They might boast a humble 39ccs of power and on appearance be hard to take seriously, but these tiny motors are so small and light that they can still get your attendees up to speeds of 30 miles per hour, which when you're just 18 inches away from the tarmac feels a lot faster than you'd imagine.
Getting started won't be tricky at all under the guidance of our team building mini moto racing instructors. With their help and a few practice laps under your belt you'll see beyond the comedy of these awesome motors and experience how fast and nimble they can be out on the circuit.
Mixing fantastic motorsports with circus style miniature motors is the perfect way to keep the company away day light and fun while still allowing plenty of thrills and a little bit of friendly competition. It's wacky and hilarious, but motoring glory is still at stake. And it is a level playing field so driving skills really do come into play.
Watch as everyone from the juniors to the chief executives takes on our team building mini moto racing for some hilarious high speed away from the office fun!
What They Said...

Looking forward to next year's trip
"...From start to finish I had every confidence in the way my enquiry was handled. Very well organised throughout.
Looking forward to next year's trip..." - Clive Gardner | April 2017

Unparalleled value for money!
"...What we got was stellar accommodation, great customer service and total transparency combined
with unparalleled value for money!..." - Mark Thackwell | June 2017
Where Available...
Send your enquiry today and let us know where or what region you would like to do this activity.
We'll recommend our best options to suit your company event.
More Categories You Might Like
We'll take all the stress out of
organising your away day activities.
Get a Quote
Or speak to our team on 01225 474200.